1000minds has launched an AI assistant as part of its decision-making and conjoint analysis software using Microsoft Azure OpenAI services. OpenAI's GPT technology is also used in the popular ChatGPT service. 
The 1000minds AI assistant helps people build their decision model while keeping them fully in control in the driver's seat, which is incredibly useful for learning how to use 1000minds and for testing it in new domains.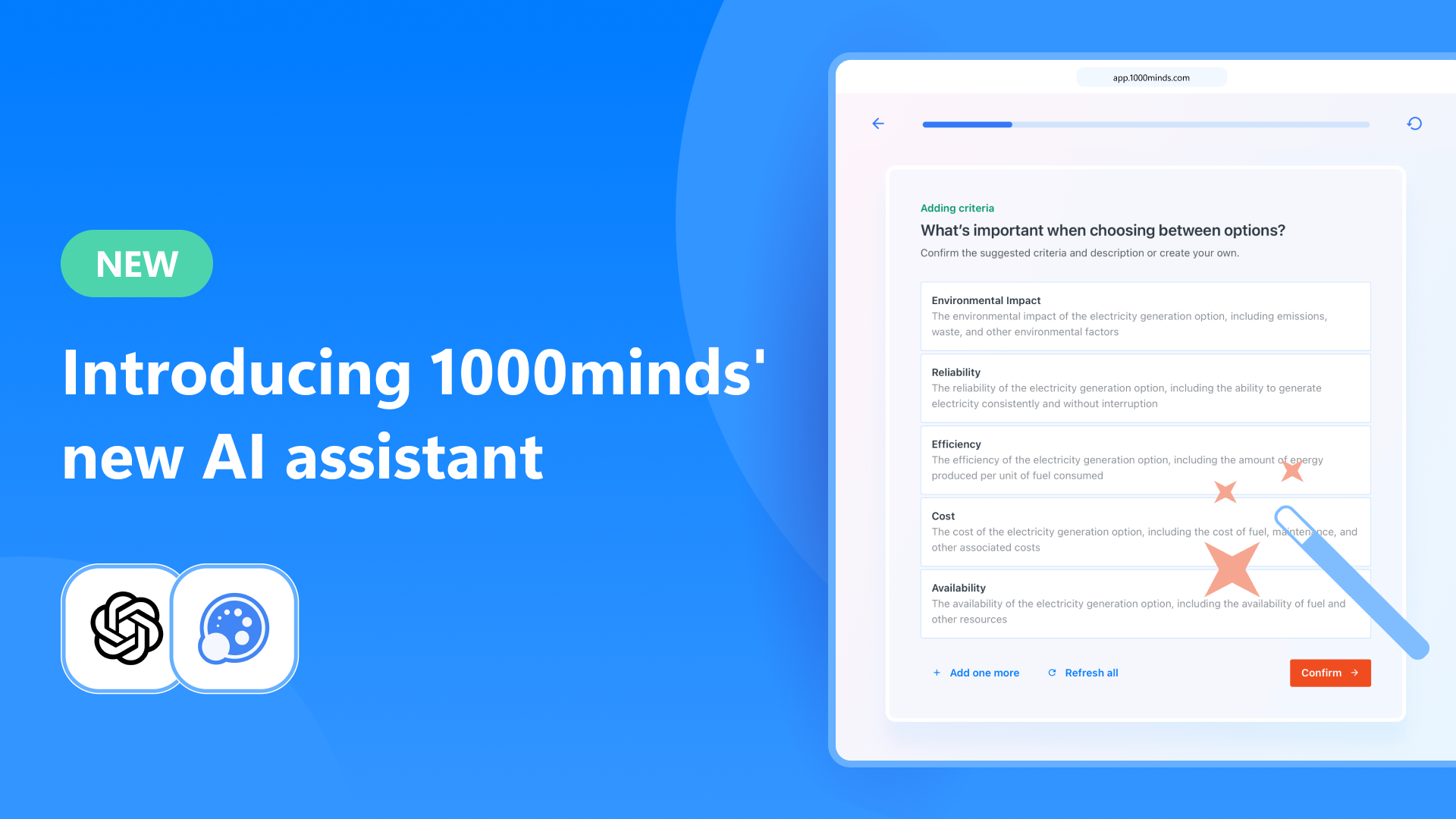 For example, if you are comparing electric vehicles (EVs), the AI assistant will suggest criteria such as recharge time, speed, safety, distance, etc – and, optionally, provide examples of electric cars for you to consider.
The power of OpenAI's GPT when recommending criteria is very impressive. However, when it comes to applying the criteria to a decision, that also depends on how the person making the decision feels about their relative importance, or weight.
In the example above, if you were trying to decide which EV is best, how do you feel about the relative importance of recharge time versus speed vs safety vs distance? This is very subjective information for which there are no universally 'right' answers because we all have our own personal preferences.
As powerful as it is, AI is not a mind reader: all it can tell you about is other people's preferences, but it doesn't know what you think.
Neither is 1000minds a mind reader – though a common reaction when people see their results is, "did 1000minds just read my mind?"!
Instead, 1000minds' award-winning and patented PAPRIKA algorithm works by asking you some deceptively simple questions involving trade-offs between the criteria. Your answers are codified as weights on the criteria, resulting in the alternatives under consideration being ranked according to your preferences.
Safety first
1000minds' commitment to AI safety best practices, including a "human-in-the-loop" approach, means that people are involved every step of the way. With just a few words about what they want to compare – e.g. "electricity generation options" or "candidates for head of HR" – the AI assistant generates suggestions that people can adapt to meet their needs by incorporating their own knowledge and expertise.  
According to 1000minds' head of design Viktor Sherepa, "AI is astonishingly helpful, but sometimes it can be a bit strange. This led us to design the assistant to take the user through the suggested elements one at a time and be able to adapt things as they go." 
1000minds has always been very powerful and user-friendly, and now getting AI help with specifying the criteria for your decision is extremely helpful.
Unlike "opaque" AI-based decision-making, in which the reasoning behind a decision can't be fully explained, 1000minds uses explicit criteria and explicit human judgments. This creates a fully auditable, defensible and refinable decision model that people can trust.  
The AI assistant also supports idea generation with 1000minds' expert group decision-making tools, and builds models for conjoint analysis, discrete choice experiments and preferences surveys.
"Combining 1000minds' PAPRIKA algorithm and OpenAI's GPT, two incredible technologies, is a brilliant idea," said Colin Smithies, Business Intelligence Analyst at Te Herenga Waka – Victoria University of Wellington. "1000minds has always been very powerful and user-friendly, and now getting AI help with specifying the criteria for your decision is extremely helpful. It's fantastic!"
Supercharge your decision-making today 
Curious about how 1000minds can help you? Take our new AI assisted decision-making process for a spin by signing up for a free trial or book a demo with our friendly team today.
Share this post on: